meet the wiggles
After all the commentary I've made about the unruly nature of my hair, someone asked me if I'd provide a couple of photos of what it looks like. I present two photos, both of which are pretty reasonable images of what you can expect my hair to be like on any given day. Now that it's long and neatly clipped again, I resort either to the low-ponytail or the two-chopsticks method of restraining it. Any doubt you might've had about the length or thickness of my hair can be answered by looking at how much of the chopsticks are hidden under that bun.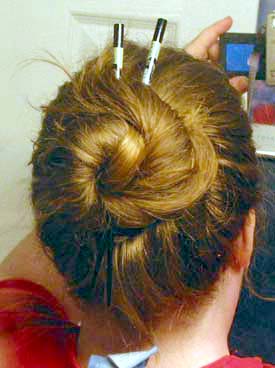 When freshly washed, tamed with silicone goo, and generally behaving, the s-shaped firecracker wiggles look like this now. It's better described by what it isn't than what it is: neither red, nor brown, nor blond, nor straight, nor curly. Brownish-blondish-reddish and wiggly.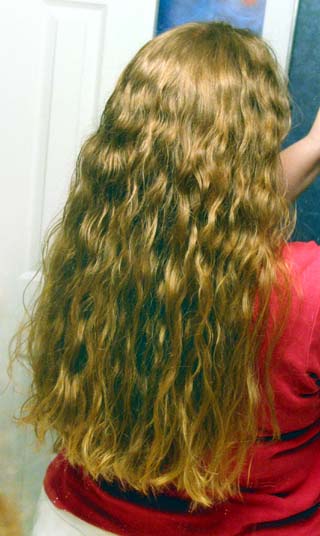 Don't ask what it looks like without the use of hair-taming bits. Some horrors are best not spoken of.
Unless I am gravely mistaken, it will be waist-length by dragon*con, which undoubtedly means that someone get bored and give me lots of little braids, or come up with something utterly goofy and punky to do with it. No matter what, they'll have plenty to play with.
Not to mention - my blue hair extensions from dragon*cons past are now far, far too short for my current hair. Guess I need to learn how to make my own. I'm certainly not going to dye my hair (because I'd never, ever manage to get my true color back) and clipping in random blue streaks works much better if the blue streaks aren't a hand's-span shorter than your true hair.