Pneumonia scorecard #2
Better. Much better.
My white cell count has dropped to 8,000, which is back down to within normal ranges. My chest x-rays are much clearer than they were last week, and my sounds & volume are much better than they were before. We did one last breathing treatment with albuterol, and he instructed me to go home and rest.
The strength of the antibiotic I'm on right now is causing … uh … issues, but this was anticipated. I don't have to return for another follow-up treatment unless I am still wheezing by Thursday.
Total weight lost on the Pneumonia Weight Loss Plan: five pounds.
Now, for your amusement, I present a demonstration of the sheer size of the Edmund, and his true shamelessness when he wants his belly rubbed. Click on the photo to get the full goodness: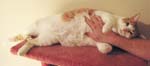 I now return to the couch. There will be lots of knitting done this week. But first … a nap, I think.